Are you pressed for space but love to cook and bake? The 22780 Mini Kitchen from Russell Hobbs is the handy, space saving appliance you've been waiting for! This compact, convenient and versatile Mini Kitchen is ideal for roasting, baking, boiling, frying and grilling to perfection.
Whether you're thinking of using the Mini Kitchen as a main oven, in a second home, caravan or boat it has a sufficient 30 litre internal capacity, which allows the appliance to be neatly stored whilst still giving you enough volume for all of your cooking needs. Its compact size allows the oven to be placed almost anywhere, so if you find bending down to reach into conventional ovens a struggle, don't worry as you can easily sit the Classics Mini Oven neatly on the kitchen work surface
---
Fan Assist and Thermostat Control
The fan assisted oven gives an even distribution of heat which helps to reduce the time and temperature required to cook food, saving on energy. And with a adjustable thermostat control, ranging from 60°C to 230°C, you have a wide choice of temperatures for all of your cooking needs.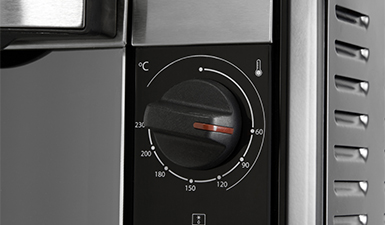 Double Hotplate
To complete this versatile kitchen appliance, the Mini Kitchen comes fitted with a double hotplate. Simply use the selector switch to select the hob you want to use, and you're good to go! You don't have to worry about calling in the electrician, as the Mini Kitchen simply plugs in, just like you would with a kettle or toaster.
Accessories
For increased adaptability the Mini Kitchen comes with an additional baking tray and grilling rack, meaning you can conveniently cook several items at once. This appliance is easy to clean, so you'll save time on domestic chores and have more time to spend tasting your delicious creations.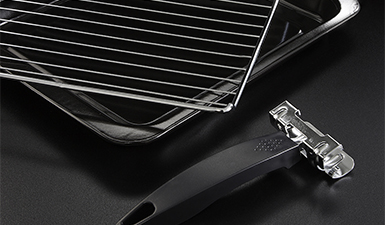 Large and Small Hotplates

30L Capacity

1920W

Baking Tray & Grill Rack

Fan Assisted Oven and Grill
---
Multi-function electric compact cooker with hotplates for roasting, baking, grilling, frying & boiling
Thermostatic controls 60 -230 degrees C

Oven Only



Double hotplate

NOTE Plates are not thermostat controllable, either ON or OFF



Fan assisted main oven
Oven: 1600w
Large hotplate: 1000w
Small hotplate: 750w
30 litre capacity
Black metal finish
Semi transparent mirrored glass door
Includes baking tray & grilling rack with handle
Power on indicator light
Dimensions: H48.5 x W36.5 x D38.5cm
Weight: 10.4kg
Colour: Black