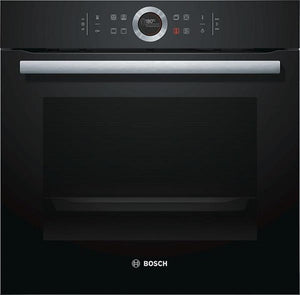 FREE DELIVERY - INSTALLATION £70 - OPTIONS AT CHECKOUT

4D Hotair
Thanks to 4D Hotair, you can place your food on any of the four shelf levels and the results will be consistently perfect. Our new fan wheel makes it possible: it changes the direction of rotation during operation to distribute heat evenly on every level.
And that's not all: with 4D Hotair, you can also bake and roast on up to four different levels simultaneously. For reliable results from top to bottom.
EcoClean Direct
EcoClean Direct liners are placed on the back panel, sides and roof on the interior of both ovens. This means less manual cleaning of the oven. EcoClean Direct is a special coating of microfine ceramic particles on the interior walls that absorbs grease and residue, breaking them down via oxidation. All you need to do is wipe the bottom and inside of the glass door for a brilliantly clean oven
TFT Display
Everything you need at hand. Our new intuitive control wheel makes cooking easier than ever. With just a small turn of the stainless steel ring, you can adjust any of your oven's settings. The TFT-touch display, with its clear and straightforward design, guides you through the various menu options. This gives you full control over your dishes at all times with the perfect end result
SoftOpen
Opening up a new way to cook. A busy kitchen doesn't need to be a noisy one. By integrating a hidden mechanism into our ovens, we have created SoftOpen and SoftClose doors that gently, quietly and safely close. Another simple yet stunning addition to our ovens.