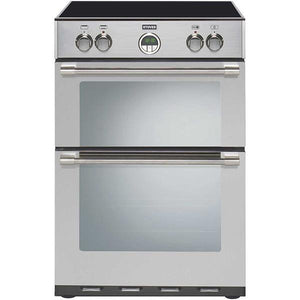 FREE  DELIVERY - INSTALL £65 - RECYCLE OLD £10
                   OPTIONS AT CHECKOUT
Stoves Sterling 600MFTi Stainless Steel Induction Mini Range Cooker comes with a set of very useful features.
Induction technology is available on freestanding, built-in hobs and range cookers. It works by heating the pan rather than the hob, creating a smarter, faster, safer and more precise way to cook. When a pan is placed on an induction hob, it completes a magnetic circuit below the hob's surface; this creates energy within the pan's base, which in turn heats the pan. As the heat is only heating the pan and not the zoned area no energy is wasted. Induction gives you outstanding low-heat performance and increased control. Perfect for delicate sauces, you can even melt chocolate directly in the pan. An induction hob can boil water considerably faster than a ceramic hob and it is twice as fast as a gas hob.
Electric multifunction oven have nine cooking functions allowing you to choose the right one to get the best results depending on the food you're cooking.
The electric conventional oven is ideal for traditional roasting as the top of the oven is hotter than the bottom. The meat is placed in the middle of the oven, roast potatoes towards the top.
Conventional Grilling - This function cooks food from the top and is ideal for a range of food from toast to steaks. As the whole grill is working you can cook large quantities of food.
Dimensions 

Height (mm)

900-930

Width (mm)
600

Depth (mm)

600

Weight (kg)

55

Top Cavity

Fuel
Electric
Function

Conventional oven and grill

Grill type

Variable rate dual circuit electric grill

Capacity
37
Energy rating
A
Power (kW)
2.0
No. of shelves
1
No. of shelf positions
2

Main Cavity

Fuel

Electric

Function

Multifunction Electric Oven

Capacity
61
Power (kW)
2.0
Energy rating
A
No. of shelves
2
No. of shelf positions
5
Easy Clean Enamel
Yes

Door type

Glass
Viewing Window
Yes

Hob

Zones
4

Induction 

zones
Size and Power
2 x small (1.4kW), 2 x

Large (1.4)

Boost function
Yes
Digital Power Display
Yes

Features and Accessories

Fascia cooling system
Yes
Timer

Programmable cook to off timer

Adjustable feet
Yes